LUVS Talks and Debates

Open to every year of the vet school, held in a 250 seater lecture theatre in the main Liverpool campus, the talks have been a huge success, with all reaching maximum capacity and each speaker being excellently received. The talks aim to expand on aspects of the Veterinary profession not covered within the course, but which are of great interest and importance to the modern day practitioner. We are grateful for the kind sponsorship of each event, with the funds going towards the room hire, pizza and refreshments for the audience.

Here are some of the talks LUVS have hosted over the past year and previously, keep an eye out for what to expect in the year to come!


An evening with Noel Fitzpatrick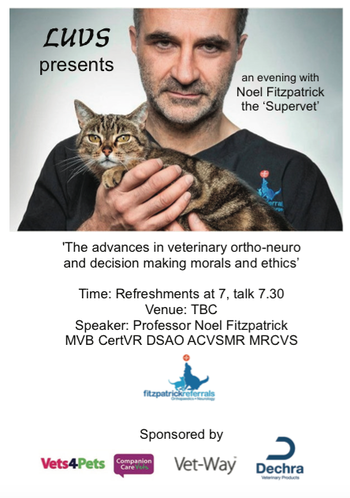 On the 23rd April we held an evening with Professor Noel Fitzpatrick, better known as the 'Supervet'.

There was a fantastic turn out for what turned out to be a very inspirational and interesting evening. Thank you to all who attended and to our sponsors for making it possible.
---
Life as an Army Vet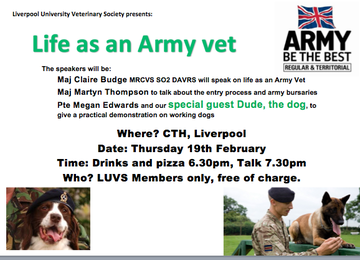 A massive thank you to our speakers for making the journey to talk to us. A fantastic evening giving a great insight into life as an Army Vet, how to get involved and truly highlighting what a great career option this is, definitely not something to overlook!
---
Medication of the Competition horse - all you need to know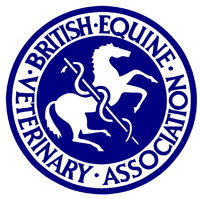 With Dr Colin Roberts, BVSc MA PhD FRCVS.

On 20th November 2015 Dr Colin Roberts of Cambridge University Vet School visited the Central Teaching Hub to talk to over 100 Luvs members about Veterinary Work at International Horse Shows. Dr Roberts dealt with the multiple roles of vets at horse shows and how one gets into working at them. He then went on to discuss medication issues in competition horses: what is and is not allowed, how one should treat horses at international competitions and how competition regulations influence treatment at home. He also discussed how we go about testing horse for prohibited substances and briefly outlined the differences between testing at international and national level. This was followed by half an hour of intense questioning (which unearthed some fabulous anecdotes) and a charity raffles. The whole evening, including some great raffle prizes, was kindly sponsored by BEVA.

---
Halal Debate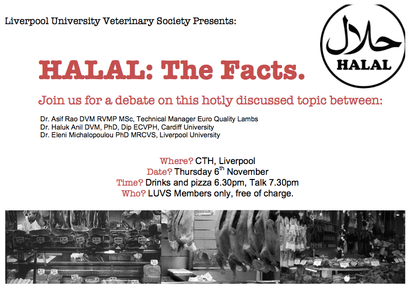 ---
2013-2014
LUVS Presents a debate on the badger culls and solving the TB crisis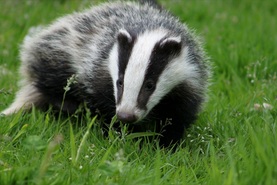 One of our most contentious topics of the year, the motion was "Regional badger culls are necessary as part of an eradication scheme for Bovine TB (Mycobacterium bovis)". We had two superb speakers: From the Animal Welfare Foundation we had BVA President Robin Hargreaves to support the motion and RSPCA Spokesperson David Bowles to oppose it.


Both speakers were excellent and we really appreciate the time they gave up to come and talk. The evening was interesting and gave rise to many talking points, the main conclusion being that there is no easy solution to the problem! All topics from efficiency, humaneness, safety and politics of the culls were debated and different views bought forward. An insightful evening.

---
LUVS Presents: A Career as an Army Vet
We were very proud to host the current President of the Royal College of Veterinary Surgeons, Col Neil Smith, who came to talk to us about his time in the Army, which has taken him all around the world and into almost every veterinary field- from disease surveillance to small animal practice, meat inspection to dog training. We also had some staff members from army recruitment here to talk about how your career could lead and how to get involved.

---
LUVS Double Header:
Peer Support Stress talk and RSPCA Vets' involvement in prosecutions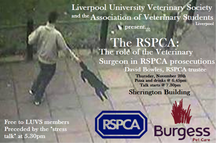 First of all we had a talk from Tina Usherwood, who is behind the fantastic peer support team we have here at Liverpool Vet School. The talk was all about coping with stress. A really massive issue that runs with the difficult and time consuming course followed by a hard career. There was some really appreciated help and advice on the issue, something that we all need.

Then, after some pizza and drinks a lll funded by the AVS (thanks guys!) we have a talk from David Bowles, a spokesperson for the RSPCA on how vets interact with the charity and are involved in RSPCA prosecutions. It's something that none of us want to be involved in in years to come, but giving expert witness information is something that so many vets have to do and it was really interesting and insightful to be given more information as to how that process goes ahead.

---
Debate: 'The Kennel Club has a positive impact on canine health in the UK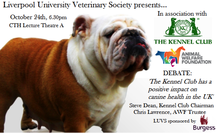 We had a fantastic evening where we hosted Steve Dean, chairman of the Kennel Club and Chris Laurence, Animal Welfare Foundation and former RSPCA Chief Vet.
The pros and cons of what the Kennel Club have to offer and how they are improving were tackled head on. It's a huge issue at the moment in the veterinary field and other small animal welfare issues, such as puppy farms, were discussed at length too. A big thank you to the AWF and the Kennel Club for their help and support.
---
Raw Diet and Nutrition Talk
Described as a 'raucous' debate on a new thought in pet nutrition, speakers from Natures Menu pet food and practising vets in support of the product came to speak to a theatre of LUVS members.

Discussion and debate flowed through for the entire evening on the use and importance of raw food, practicality of the product and whether evidence based medicine is essential in veterinary practice.

---
Clinical Club

Talks every Tuesday night at Leahurst campus for the 4th and 5th years from external companies and speakers. Focusing on clinical material vital to day one post graduates, we aim to put on a wide range of topics and encourage discussion. Each session is sponsored, usually by the company putting on the talk that night, resulting in free pizza and refreshments for all attending.
See the LUVS Calendar for more details on upcoming talks.
For more information, or if you would like to organise a Clinical Club talk, get in touch with
Hannah Davidson
,
LUVS Secretary
at
hlhdavid@student.liverpool.ac.uk
LUVS "Super Series" Talks from 2012/2013
Below are details of our landmark talks from previous years

'Dealing with the 2001-2002 FMD Outbreak'
The final talk of the year came from Public Health vet and lecturer, Eleni Michalapoulou on the nationwide Foot and Mouth virus outbreak. Eleni was one of the first vets on the scene at the abattoir where the disease was first reported, was heavily involved in controlling the outbreak and then went on co-write the report on the whole ordeal. She gave us a talk on her experiences over the couple of years that the outbreak was happening. As per usual, the night was real well attended and a renowned success. Many thanks to Eleni for the evening
'Working at the Olympics'

We are delighted to announce that Dr. Debbie Archer, one of our leading equine surgery specialists at Leahurst, was the star of the third LUVS Super Series talk, as she described her experiences from this Summers LONDON 2012 OLYMPIC GAMES. Debbie was in charge of the Equine Critical Care team, and she discussed how you get about being invited to work behind the scenes at the worlds greatest sporting event, what specific jobs and roles she performed, any stories from behind the scenes and hopefully a picture or 2 of herself with our successful British riding team.
There was a charity raffle on the night, with a top prize of a stethoscope donated by Royal Canin, as well as other prizes up for grabs. All proceeds from the raffle went towards the LUVS' charities.
Kindly sponsored by the

BVA educational fund.
'Guide Dogs for the Blind'

A talk by Penny Williams and others discussing the work of Guide Dogs as an organisation, with specific focus on the technical and behavioural training of the dog's used, and how the veterinarian is involved with the charity's work. An amazing insight into one of the UK's best-loved charities and the outstanding work they do, as well as an intriguing different perspective on learning and behaviour in the canine world. There may even have been one or 2 canine helpers present on the night to help demonstrate the skills discussed...
FOC for all LUVS Members, £2 for non-luvs members, with all proceeds going to the Guide Dogs charity.
Charity Raffle on the night, with the chance to win fluffy Guide Dogs!
Sponsored by
BURNS PET NUTRITION LTD.
---
'Fair Price for Fresh Milk'

A talk and discussion by Adam Briggs, Senior Policy Advisor of NFU North West, and Mike Gorton, Chairman of the NFU North West Dairy Board, highlighting the current crisis within the British Dairy Industry with respect to milk pricing - how we have got where we are now, the effect this is having on our farms, and how the farmers have fought back.
This was a fantastic opportunity to hear from those right at the heart of the fight against crippling milk price cuts, to understand the current dairy industry climate and how it is affecting our farmers and their animals. Suitable for all years, from first and second years who will be undertaking PCEMS in the coming holidays with many farmers affected by these issues, through to fifth years who will may soon be acting as veterinary surgeons for affected clients and will be expected to understand the in's and out's of the industry.
Kindly sponsored by the

NFU educational fund.
---