Welcome to the website of Liverpool University Veterinary Society, better known as LUVS.

This page will give you a taste of all the events LUVS has ran so far this year, with the rest of the site showing what else we have to offer as a society from upcoming events to information on our associated societies and much much more!

If you have any further questions, please feel free to contact a member of the committee, their details are on the 'Meet the Committee' tab on the site.



LUVS Talk on 'Dangerous Dogs' with AWF Chairman Chris Laurence

With the start of the second term brought the opportunity for our second big LUVS talk of the year and this time we were delighted to invite the Chairman of

AWF

(Animal Welfare Foundation),

Chris Laurence

to talk to us on

'Dangerous Dogs'

.

With the recent change in legislation governing 'Dangerous dogs', we thought it would be brilliant to approach such a topical issue during a LUVS talk and it just so happens that you couldn't find someone much better qualified to give the talk than Chris! Understandably, the talk proved extremely popular with a huge turnout of around 120 students and not a seat left empty in the lecture theatre.

Chris initiated the talk by introducing the AWF and explaining their various roles in student communication and debates as well as their input into research through their own studies and those which they provide grants and funding for. Chris then explained to us that genetics are not the answer to solving how to deal with dangerous dogs but to educate our clients on how to interact with and train their dogs properly. The evening was concluded by a case study session in which 3 LUVS members acted out a scene from a vet practice whereby a supposedly aggressive dog was brought in to the vets- it was then put to the audience members to discuss and decide how best to deal with the situation, thinking not only about the dogs welfare but also of the clients emotional involvement. This encouraged us to think clinically and apply what we were learning to situations that we have previously seen on work placements. It also made us all realise how important it is to keep up to date with legislation throughout our veterinary careers! Overall, the talk was a huge success and we are very grateful to Chris and the whole team at the AWF for providing us this opportunity. We look forward to welcoming back the AWF in future for further debates!

LUVS volunteer as teachers for the day!

This February, we were asked by a local school teacher in Neston if there were any LUVS students who would be interested in going to their school and talking to their Year 1 and 2 children about the basics needs of animals and how to look after them. We were thrilled at the opportunity and six 4th year students volunteered for the job; Ellie Richardson, Beth Dixon, Zoe Morphew, Nicole Whittell, Becky Sedman and myself, Katie Burden. Each of us had our own 'topic' to teach and the children rotated round in each practical session. These included: match the baby to the mummy animal, what do you call a mummy and a daddy animal, how to care for injured wildlife such as hedgehogs and chicks, how to handle and feed small furries, what animals are endangered and what products come from which farm animals. The day was a great success with lots of fun had by teachers, pupils and vet students alike. We think its a brilliant initiative to start childrens education on animals early in schools and it's something our dedicated 'EdVet' team are working on to ensure people of all ages know exactly what us vets are here for!
Picture below are our lovely volunteers with their teaching props!

Winter Formal and Informal

Undoubtedly one of the most anticipated nights of the year, the Winter Formal and Winter informal did not disappoint. The wonderful social secs, Meg and Scott scored again with the Winter formal held at the beautiful Panam at Albert Docks and the Winter informal hosted by a brand spanking new venue, the Passage to India. After their curry, the dapper gentleman met up with our beautiful ladies in Panam to finish the night in true style- a rare but welcomed occasion for us vets to finally don the glad rags and look glamorous for a change and boy do Liverpool vets scrub up well!

Lord Trees Bar events: LEVS Race night and Bonfire night!

Well, the wonderful LUVS Lord Trees Bar reps have literally been on fire with 2 big events headlining in the Lord Trees Bar in the last 2 weeks.
The first was Race night- run by LEVS (Liverpool Equine Vet Society) to bring Aintree to Leahurst. It was very competitive affair with students roaring on their horses to the finish line. The night culminated with a charity race, won by Lucie McKenzie (the most fortunate unlucky person you'll ever meet) who won £30 to spend on the LUVS bar.


The second event was an early celebration of Bonfire night! Mulled cider, toffee apples and marshmallows were on the agenda with a spectacularly large fire to keep us all warm. A great night for students, lecturers and clinicians alike. Look out for future Lord Trees Bar events coming soon!

​

LUVS talk: Sean Wensley, former BVA President on Brexit: how it will affect the veterinary profession

LUVS were thrilled to invite former Liverpool graduate, Sean Wensley back to Liverpool to talk to us about the ever contentious topic of Brexit. We had a fantastic turnout of just under 200 people to listen to how the BVA will support the future generations of vets as well as those non-UK vets who have provided the UK with years of dedicated work, teaching and research. In a time of such uncertainty it was great to hear how whatever the outcome of next years legislations, BVA will continue to maintain strong relations with the rest of the EU and keep us all informed of how it will affect us in our careers. Thanks very much Sean for coming!


Freshers Welcome Week 2016

Well, safe to say the academic year of 2016 went off with a bang this Freshers week! We started off with

Meet the Buddy

at Revolutions Bar, St Peters Square (our lovely sponsors) where the prophets met the disciples. The older year buddies couldn't have been better matched to their little freshlings courtesy of this years fabulous secretary,

Bethan Warner

. Having all palled up over a good few shots of tequila in Cava it was on to the next night-

The Ceilidh

.

Imogen Frame

, the Liverpool VP was the lady to thank for finding us our new band for the year- the fantastic

(and rather gorgeous)

Scottish Ceilidh band had us all utterly swept off our feet by the end of the night.

Tuesday- the infamous freshers week

Bar Crawl

. Vets never miss the opportunity to show off all their extra-curricular talents, singing being one of them in Woodys karaoke bar. It was another raging success for our 2nd year dream team, Scott and Meg- the new LUVS social secs.

And then the

Treasure Challenge

, hosted by the devilishly handsome Leahurst VP

Harry Harwood

. From standing on ship anchors to shaving each others heads, the teams fought furiously to win the greatest number of points to secure them the ultimate title of Treasure challenge champions. The videos of that night will live on forever!

Thursday- the much awaited glamorous

Buddy Meal

with 3 course dinners and a clink of port glasses to get our freshers appropriately educated about the grand finesse of vet school. Then finally the week ended with....

THE RETURN OF LEAHURST PARTIES!!!

With a medieval theme, 2 booming bars with fat frogs sold out in 30 minutes, a mighty DJ and a 500 person marquee, it was nothing short of an absolute blinder of a party. A great way to welcome in our brilliant freshers who just happen to be the gamest bunch the vet school has seen in a while. Welcome Freshers of 2016!

Vets Summer Ball 2016
Well what a finale to end yet another fantastic year across the vet school. The summer ball is always the most awaited event of the LUVS social calendar and this year certainly didn't disappoint. Set in the beautiful grand hall of St.George's in the heart of Liverpool city centre we celebrated the end of our wonderful 5th years reign along with all that LUVS has achieved thus far. The evening was organised by the brilliant Summer ball committee; Emma Reilly, Jordan Hall, Jamie Duquemin-Sheil and Amy Osborne who gave us all a wonderful night to remember and truly cracking send off for our 5th year graduates. We wish them all the very best of luck and success in all their future endeavours- we will miss you!

Like the Society's Page on Facebook

Join the Society's Facebook Group

​Vets Varsity Weekend

Our annual Vets Varsity weekend took place at the end of April. This event event saw our pre-clinical students take on the fourth and fifth years at each of our vet sports, including rugby, hockey, football and netball. And this year, it was the Liverpool students that took the Vet Varsity crown! It was great to see everyone getting so competitive and was a great chance for all the years to integrate.
​LUVS Full Moon Party
| | |
| --- | --- |
| We returned to Camp and Furnace for The Full Moon Party at the end of April, this was the last LUVS party of the year! This event saw us cladded in fluorescent clothes and armed with glow sticks for a night to remember. Having used Camp and Furnace as the venue of our Welcome Party back in October, it was great to be back there for another great event! It was also a nice opportunity for our pre-clin students to let their hair down before revision for summer exams gets into full swing. | |
​VDS- 'Your First Years in Practice: Love Affair or Law Suit?'
This talk showcased some of the most unlikely, entertaining and bizarre mistakes that recent graduates have made over the years, and their repercussions; while showing our students just how unlikely it is that they will make such errors! Big thank you to the VDS for putting on such an interesting talk!
RAG Week!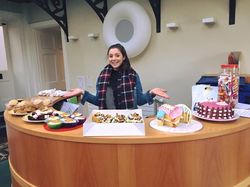 8th-14th February marked the return of RAG week - a whole week dedicated to raising money for our 3 LUVS charities. Different events took place over the course of the week including a onsie day, Liverpool and Leahurst bake-offs, a dodgeball tournament, and as with most LUVS activities, Vet Revue! Thank you all for getting involved, and to Bethan Warner, our Charity Rep for putting on such a fantastic week of events!
---
Winter Formal and Winter Informal
Our Winter Formal and Winter Informal Dinners were two great occassions. An evening which offered two different events, with the chance for all the students to collect at the venue of the Winter Formal, Panam, at the end of the night! The Winter Formal was a sophisticated affair, with fine dining, while the Winter Informal offered those who would prefer it the chance to go on a curry and a bar crawl. In previous years these events were Ladies' Dinner and Lad's Curry, but this year they've both been opened up to both sexes and revamped, so it was a stand out night of the year!
​
Check out the pictures here ​
https://www.facebook.com/rachel.turner.353/media_set?set=a.10208838665230112.1073741849.1418394907&type=3&uploaded=101
Sports Christmas Meal
To mark Christmas, and the end of term we had our annual Sport's Christmas Meal. This year saw a large number of representatives from each of the vet school's sports teams enjoy a three course meal at Revs in St Peter's Square. The food was great, and so was the company! Well done to our Sports Rep Toshi Wilkins for organising it!
AVS Bristol
| | |
| --- | --- |
| The weekend of November 6th- 8th marked AVS Sports Weekend in Bristol! This weekend saw students from each of the UK's 8 vet schools compete in a range of sports and allowed our students to experience a new city! This is always a fantastic and hotly anticipated event, and this year certainly didn't disappoint in being one of the best weekends of the year! With a bar crawl, ceilidh and a range of rugby, football, netball and hockey matches it was certainly a jam packed weekend! Thank you Bristol! | |
Staff Student Bonfire Night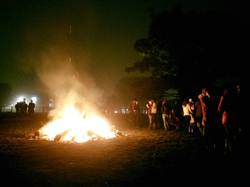 This was a top event for staff and students alike, with toasted marshmallows and toffee apples to match the bonfire. Big thank you to our bar reps for making it such a successful evening!
---
UVLAA Alumni Day
On Saturday 17th October, LUVS, in association with the UVLAA held the first Alumni Day of the year, entitled 'Life as a Vet: What are the Options?'. The day provided an insight into internships, a career as a locum and much more, which will hopefully guide our students on where they would like their career to take them!
Fox Hunting - A Debate
This debate was lead by David Bowles of the RSPCA and Jim Barrington of the VAWM on the 15th October. It allowed us all to get an insight into the two sides of the fox hunting debate, while allowing us to have our say too in the questions which followed.
Vet Freshers Week 2015
This was a great week, dedicated to welcoming our new first year veterinary and bioveterinary students to LUVS over six events! Highlights from the week included a treasure hunt across Liverpool (with a multitude of challenges), a bar crawl introducing all of our favourite hang outs to the freshers, and Welcome Party, which this year was held at Camp and Furnace. Camp and Furnace turned into an Arabian Night with genies, magic lamps and much more!
SPANA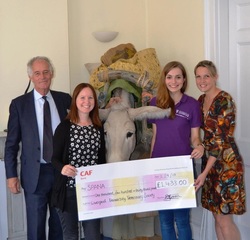 Last week, last years charity rep Sophie Carman went to London to present a cheque of £1433 to the SPANA HQ. Here she met Chief Executive Jeremy, Head of Community Supporter Care Kirsty, and Veterinary Director Francesca. Once again a massive thank you to all our members for their fantastic charity offerings, and to Sophie Carman for all her fundraising ideas! We look forward to working with SPANA again this academic year when our new Charity Rep, Bethan Warner takes the helm.
---
| | |
| --- | --- |
| Have a look at the University of Liverpool School of Veterinary Science website: | |
Contact

Liverpool University Veterinary Society
School of Veterinary Science
University of Liverpool
Neston, CH64 7TE
United Kingdom

School of Veterinary Science
+44 (0)151 794 2000

Undergraduate admissions +44 (0)151 7944797
vetadmit@liverpool.ac.uk

Webmaster: Katie Burden (President)
president@luvs.org.uk